This Inspiration Friday party is dedicated to the one I love...my Groom...the one I married 12 years ago on Sunday!
Lest you think I am the only one in this house with a warped sense of humor, I must tell you that my Beloved proposed to me by standing on a street corner looking like a Homeless Man, holding up a sign that read...
Can you read it? "Wifeless, will work for Marriage!"
Let me just say, that when you are riding along in your roommate's car late at night and you see a guy standing there with a hood over his head holding up a cardboard sign, and she pulls her car over and says, "let's talk to this guy and see what he needs" the last thing on your mind is a Marriage Proposal!
You're fearing for your life at that point!
Thankfully, though, a Proposal it was!
Here we are on our wedding day...
We were married at the Pepperdine University Chapel in Malibu, California, on that beautiful day in October. Little did we know the twists and turns our lives would take, but having this man as a partner along the way has made the journey that much sweeter!
Seeing him as a Daddy inspires me to be a better Mommy
and he has overwhelmingly exceeded my hopes and dreams as a Husband for me and a Father to our children!
(Gotta love a guy who will carry the zebra print lunch bag with confidence!)
And, when the love of your life makes a special request for one of his favorite Fall Meals, you gladly oblige!
You see, we have this little tradition...something we started doing years ago, and something that has helped keep our marriage strong in a season of life where these little people will try to pull you apart, eat you up, and spit you out!!!!
Slight exaggeration, I know, but it IS hard to find time for each other and we don't get to have Date Nights out very often. So, we came up with a weekly
We make special meals for each other (or order Take-out!) and we feed the kids at their normal dinner-time and then wait until they are in bed and have a late dinner together. We usually eat in the Family Room at the coffee table and watch a movie. Or sometimes, we eat in the Dining Room with candles lit and we get to talk in full sentences with no interruptions.
With Fall in full swing, the request was made for one of our all-time favorites...
Penne with Butternut Squash and Italian Sausage
(Recipe from Traditional Home)
Here's what you will need...
And, you know, if you are going to be cooking with wine, you might as well pour yourself a glass!
Nobody gets you in the mood for Date Night more than the lovely Miss Ella Fitzgerald, so she was crooning at me in the background while I cooked.
I always use my heavy cast-iron skillet for this recipe. The extra flavor it infuses is just perfect.
I know that most of you probably already know this technique, but I wanted to show you how I like to chop my sage (or basil).
I layer them one on top of the other in a little pile...
Then I roll the leaves up...
And then make thin slices with my favorite Knife...my "Wusthof" which normally runs for well over $100 but I found at TJ's for $29.99!
When you're done, you will have this wonderful little pile of ribbon-y sage to add to this delicious meal!
Top off your glass of wine and Enjoy!
Recipe
3 tablespoons olive oil 1 1/2 pound butternut squash, peeled, seeded, and cut into 1-inch chunks
1 1/4 pounds bulk sweet Italian Sausage, crumbled 2 tablespoons minced garlic (about 12 cloves)
Pinch crushed red pepper (optional) 1/4 dry white wine
1 1/4 cups chicken broth 3 tablespoons finely chopped sage
Heat large skillet over medium-high heat. Add olive oil; swirl to coat pan. Add squash and cook 4-5 minutes until browned, stirring occasionally. Transfer to bowl. Return pan to medium-high heat; add sausage. Cook until well browned. Drain. Stir in garlic and crushed red pepper, if desired, and cook 1 minute. Add white wine and simmer, uncovered, 1-2 minutes, stirring constantly and scraping pan to lossen any browned bits. Return squash to pan; add chicken broth and sage. Bring to a boil and reduce heat. Cover and simmer, stirring occasionally, until squash is very tender. Cook pasta according to directions. When al dente, drain well. Gently combine pasta-and-squash mixture. Cook and stir for 2 minutes. Season to taste with salt and pepper. Enjoy!
And, there you have it! A wonderful Date Night Dinner! This is also my go-to "Company's comin

" meal. We won't be eating this on our Anniversary though, because we actually get to go out! That is if I can shake this horrible cold I just came down with. Nothing says romantic Anniversary dinner like a dripping nose and uncontrollable sneezing.
Happy Anniversary Honey!
*Oh, and would you believe that we share the same Anniversary Date with my sister and her husband? It's #18 for them, so Happy Anniversary too, you guys! *
And now, it's time for the Party! What has inspired you this week? Did you post something that you hope will inspire someone else? Anything and Everything is welcome here so don't hesitate to join in the fun! Can't wait to see what you all have been up to!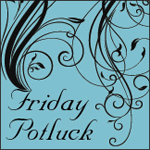 Here is how to link up...
1. Add your Permalink to your entry but not your General Blog Address. To get your Permalink, click on the title of the blog post you are wanting to submit and copy and paste the address into the URL box. You will also have to add your address but it will not be visible to anyone else.
2. Do not try and Link up until you have actually published that particular post on your blog.
3. Please link back to the host blog, Southern In My Heart, so that those who visit your blog will be able to find some wonderful Inspiration from everyone else!
Thank you from the bottom of my Southern Lovin' Heart,