Welcome to the First Annual Soup Exchange
This collaboration was born from a desire to connect with my sister from across the miles! Doing this blog thing together has been such a fun and bonding experience that we thought, hey, why not throw a party together?
It is that time of year when we start bundling up and our hearts and energy turns to all things Home. Home for me is a funny word. Now my true home is wherever my hubby and rascals are! But, I long for and deeply miss my family, and home to me is whenever we are all together, wherever that happens to be that year! My kiddos don't get to go to trick-or-treating at Auntie Heather's house. We don't get to have them over to hang out and watch Football and gourge ourselves on yummy food.
So, this has become the next best thing! A way to visit each other's homes and share our favorite recipes.
This installment is all about Soups, Stews, Chili, and even side dishes that would like to come along for the party.
Gotta have me some good bread to go with my soup!
I was stumped at first as to just which soup I was going to share today. And then....it came to me! One of my all-time favorite recipes that I hadn't made since last year about this time.
THIS AIN'T YOUR MAMA'S CHICKEN NOODLE SOUP
It is actually a recipe from Tyler Florence and it is truly like no other noodle soup I have ever had.
First things first...got to set the mood for the evening so why not cook while listening to this
?
Gorgeous! The music, I mean!
And, the recipe doesn't call for any but it's good for my heart, right? Poured myself a little glass of our new favorite red while Mr. Botti serenaded me us.
And would you believe that while listening to him and drinking that, I was still able to make this?

Nope! You are not seeing things. Those aren't egg noodles, that is cheese filled Tortellini. And no, that isn't chicken. That my friends, is Sausage! All the other typical Noodle soup ingredients are in there...carrots, celery, onions, but this is definitely
Not Your Mama's Chicken Noodle soup!
Now, what goes well with Noodle Soup? Grilled Cheese of course! But, this is not your average grilled cheese.
This is a Mozzarella Grilled Cheese with pesto and fresh roma tomatoes. All done up Panini Style with fresh Sourdough Bread!
I used this handy guy for cooking them up
If you don't have one of these, get one! Grill pans are so great to have, especially when you live where you can't do year round grilling but you want to get those great grill marks!
I use my small cast iron skillet to help give the sandwich some weight and insure even melting.
My mouth is watering just looking at this again!
And here is how we enjoyed this deliciousness that night.
Fire going, sitting on the floor with the ottomans covered with a tablecloth, wine glasses filled (or refilled in my case!) and watching a movie with my most favorite person in the world...my wonderful husband! Between working full-time, completing his MBA, raising kiddos, serving at church and just keeping up on life, these moments with him have become even more precious!
Here is the link to these recipes in Tyler Florence's
episode entitled "Ultimate Rainy Day Menu".
Hosting a Soup Exchange Party is so easy and very fun!
Here are some simple instructions...
1. Invite your favorite people
2. Have them cook up enough soup so that each person takes home at least 2-3 cups worth.
3. Package the soup in disposable tupperware and attach the recipe on top or bring it along to pass around.
4. Set out all of the soups on a table or counter and at the end of the party each person goes home with a wonderful sampling of each kind.
5. When I have hosted these in the past, I have also cooked up some soups and goodies for us to munch on during the party.
6. I like to encourage folks to maybe think of someone they could share some of their soups with...maybe an elderly neighbor, a new mom and dad, someone battling an illness. The work has already been done for you so you can just pass along the goodness!
Let's get to the Exchange! Link up your recipe below and share the Yummy Goodness with the rest of us! And feel free to join us even if you have a recipe from a long ago post.
Now I'm going to head on over to my sister Heather's house to sample her soups and relish in spending some "virtual" time with her in her lovely and welcoming home!
Come join me by hopping over to Gourmet Meals for Less! And be sure to bring your soup with you and link up your recipe there too. It will be twice the fun for folks to see your yummy creations!
Thanks so much for coming to our Soup Exchange and watch for our Next Sister Saturday coming soon where we will be hosting our First Annual
Cookie Exchange!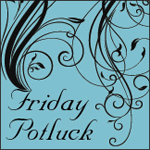 Linking to Foodie Friday!